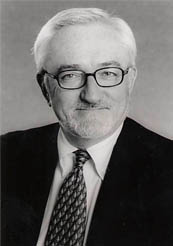 President & Founder, Mile High Development LLC
Mile High Development is a veteran of large scale mixed use projects including Colorado Center, a $100 million mixed use project at I-25/Colorado Blvd. in central Denver in conjunction with TIAA-CREF, the world's largest private pension fund, which launched its first phase in 1986 and completed the second and third of the ultimate six phases in 1999. The project features a 132,000 s.f. specialty retail center featuring a 9 screen United Artists Theatre with an IMAX Theatre, and 600,000 square feet of Class A office space in two 12 story towers, and 1600 structured parking spaces in two parking structures, adjacent to the Colorado Station light rail station on the T-Rex line.
Mile High Development was also the Developer of the Wellington E. Webb Municipal Office Building in downtown Denver, a $250 million, 700,000 square foot Class A office project developed for the City and County of Denver in 2001/2002.
Mile High Development is the Co-Developer of Museum Residences, a $90 million condominium and hotel project developed in conjunction with the expansion of the Denver Art Museum. The first phase of Museum Residences, designed by Daniel Libeskind, is a 57 unit luxury condominium/mixed use project completed in 2007 and is currently over 98% sold out. The second phase, including a 165 room, 4 star hotel, The Art Hotel, and 50,000 s.f. of office/mixed use space, broke ground in November 2013 and will be completed at year end 2014.
Mile High Development was also Co-Developer, with Opus Northwest, of Lakewood City Commons, an $80 million mixed use retail, office/civic and community development, including a new City Hall in Lakewood, and a 330,000 sqft s.t. power center.
Today, Mile High Development is focused on various mixed-use TOD opportunities at existing light rail stations along the southeast I-25 corridor, including the Apartments at Yale Station, a 50 unit senior affordable housing project at the Yale light rail station completed in 2011, and University Station, a 60 unit Senior affordable housing project located at the University of Denver light rail station which broke ground in February 2013 with a completion date of February 2014.
MHD has the ability to work in a complex political environment to maximize these opportunities by working closely with land owners, local municipalities, the Regional Transportation District (RTD), Colorado Department of Transportation (CDOT), and other governmental entities. Mr. Thorn Co-Chaired the Finance Committee for the Guide the Ride Campaign, and led the Downtown Denver Partnership fundraising efforts for both the successful Southeast Corridor/TREX Campaign and the FasTracks Campaign, and has been active in transit issues and related legislation for the past twenty five years.
In 2011, Mr. Thorn was the co-recipient (with Mr. Buz Koelbel) of the inaugural Transit Alliance Leadership Award as Outstanding Leader in the Private sector. In 2001, Mr. Thorn was named Honorary Dean of the Burns School of Real Estate and Construction Management at the University of Denver and is currently serving DU as Executive in Residence
Mr. Thorn received a Bachelor of Science degree in Aerospace and Mechanical Engineering(Cum Laude) from the University of Arizona in 1967. He is a former Board member of NAIOP, and is a Full member of the Urban Land Institute (ULI), and a member of the ULI Executive Committee. He is a former Denver Urban Renewal Authority (DURA) Commissioner and served on the Management Group of the Downtown Denver Partnership, where he was Chair of Downtown Denver, Inc., in 2002 &2003, and Chair of the Downtown Denver Partnership in 2004. He is also a founder and Vice Chairman of Transportation Solutions, the Transportation Management Organization serving central Denver, Cherry Creek and close-in Southeast Denver.