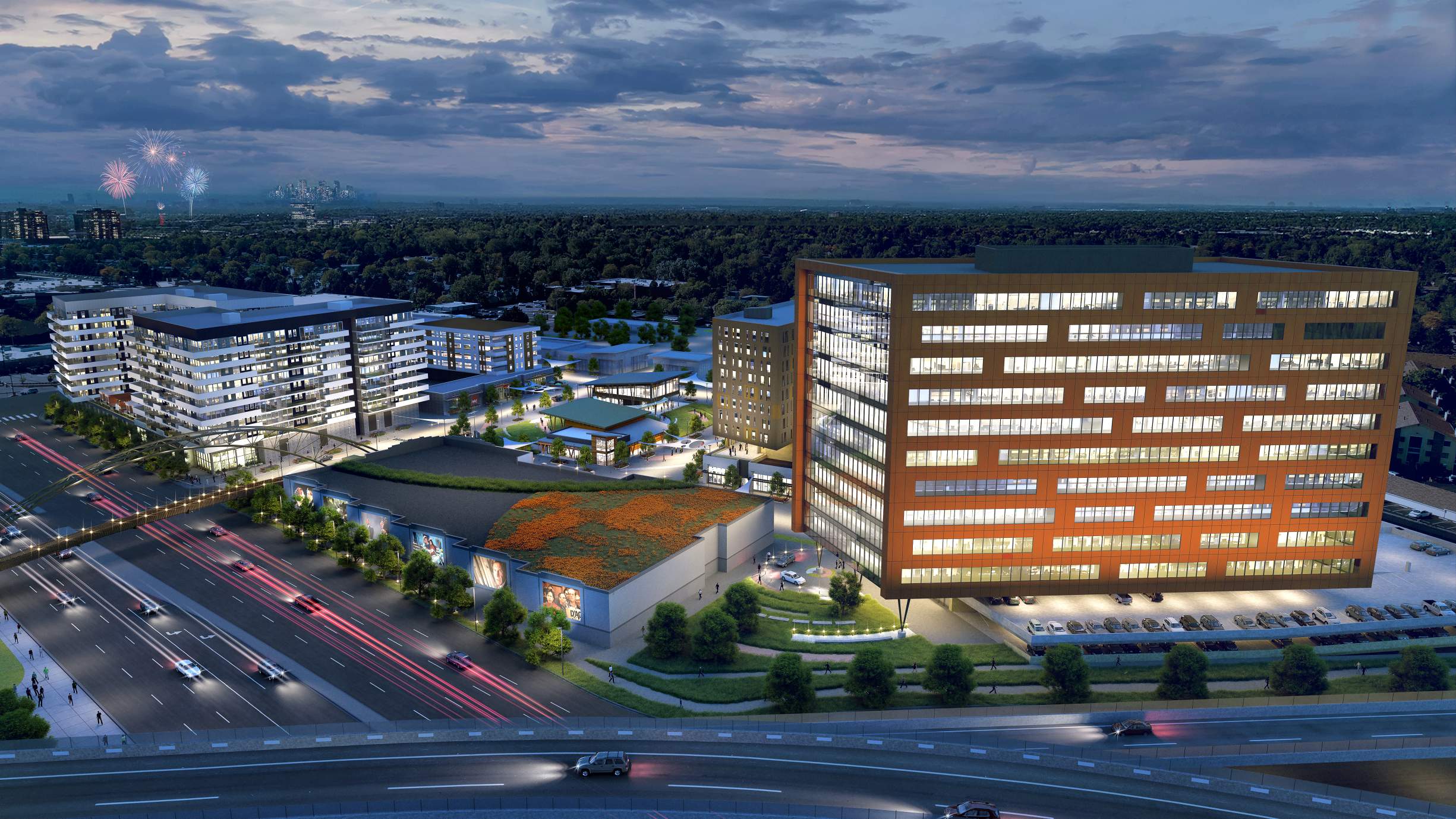 The Point at Nine Mile Station is a redevelopment of the Regatta Plaza Shopping Center, a 22 acre shopping center developed in the early 1980's that flourished for many years, only to fall into dis-repair through neglect, in the early 2000's. Because of the site's strategic location at the confluence of Interstate 225 and S. Parker Road, and directly adjacent to Nine Mile Station, the City of Aurora and the Aurora Urban Renewal Authority have been very proactive in re-development strategies and attracting a development partner.
In 2015, a joint venture of Mile High Development and Koelbel and Company, Mile High/Koelbel (MHK) was selected through a competitive RFP process as Master Developer.
The project has been renamed and branded as "The Point at Nine Mile Station", which is intended to focus on the confluence of two major arterials and the Nine Mile Station light rail station, coming to a "Point" at this strategically important location in the entire South Aurora/Southeast Denver area.
The project will include a new King Soopers store of 80,000 sf, replacing the 30 + year old 50,000 sf store that has been operating on the site, along with a neighborhood retail strip of 22,000 sf and a new Main Street on the Dartmouth right of way that currently terminates at the site at a fully signalized intersection with Peoria Street. This portion of the site will be focused on serving the residents of this mature community, including the Dam East and Dam West neighborhoods with a grocery anchored neighborhood shopping center.
The balance of the site nearest Nine Mile Station will be focused on a mixed use/TOD development, including a PED/BIKE bridge across Parker Road connecting the site to the light rail station. The addition of the R Line to the Fastracks system in 2017 gives local and regional residents access to both the Anschutz Medical campus and the new VA Hospital at Fitzsimons, as well as the A line to DIA. Nine Mile Station has been the termination of the F and H lines since 2006, providing access to mid-town Denver and Downtown Denver.  This service will be upgraded to provide better service to the Denver Tech Center and the Inverness and Meridian employment centers to the south.
The vision for the TOD portions of the site will include market rate and affordable housing totally 300+ units, as well over 100,000 sf of new retail and entertainment uses, and a 200,000 sf office tower.