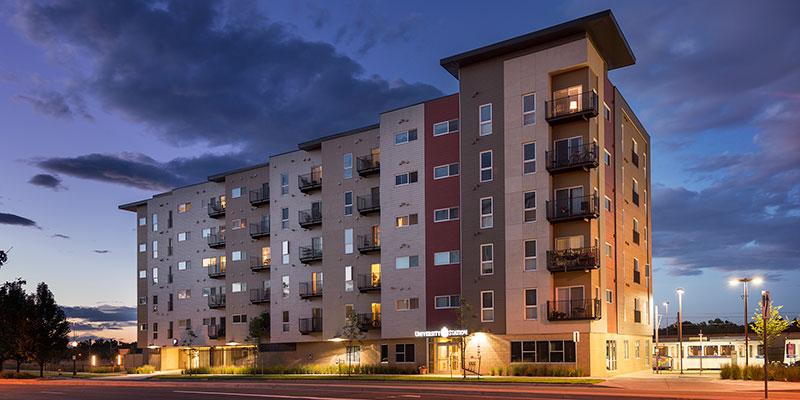 Senior Affordable Housing
The six story, 60 unit senior apartment project was built in 2014 in conjunction with the Regional Transportation District (RTD) and included building the building on the former detention area for the light rail platform at the University of Denver light rail station. The detention vault was built under the footprint of the building and a new Kiss-n-Ride facility was added for RTD.
University Station Apartments consists of sixty one and two bedroom senior affordable housing units in a 6 story elevator served building. The project serves seniors over the age of 62 at 30%, 40%, 50% and 60% AMI. Project amenities include a 1,150 square foot community room with a kitchenette and entertainment system, a 300 square foot gym and dedicated outdoor community space.  The building has been constructed to comply with "Green Communities" criteria.
The project is located immediately adjacent to the University Station light rail station and is a very short walk from the University of Denver campus as well as retail services along University Boulevard between Asbury and Evans Avenue. The close proximity to the University of Denver is a great benefit to the senior residents. Through the Senior Audit Program, seniors over the age of 60 may audit select undergraduate courses for only $100 per course.